Take a Break From Your Payment
When you just need a little extra cash in your pocket, skipping your next loan payment could be just the ticket to get you ahead. FOCUS Credit Union's Skip-A-Pay program allows members to skip a monthly payment on a qualifying loan as long as certain program qualifications are met.
Free Up Some Extra Cash
When You Really Need It
Auto, Recreational Vehicle,
Personal & More Loans Eligible for No Fee
Skip Your Credit Card
Payment for $10 Fee
How to Skip A Payment
Skipping your next payment is a snap! You can do it from the comfort of your own home within Online Banking, from our Mobile App or download the paper form and return it to us via email or text. As always, you can also stop by FOCUS Credit Union to complete the Skip-a-Pay process!
Online Banking/Mobile App
The easiest and most convenient way to skip your next loan payment is through online banking. Simply follow these three easy steps:
1. Log in to Online Banking or Mobile App
2. Find the eligible loan you wish to skip a payment on
3. Click … in desktop or > in Mobile App, to display below list. Then click Skip A Payment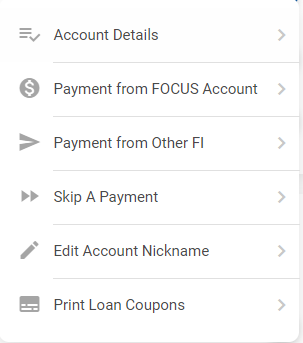 Email or Text
There may be a delay, but if you don't use FOCUS Credit Union's online banking or Mobile App, you can still skip a loan payment by downloading this form; or if skipping a credit card payment this form. Complete it and return it to us via email to service@focus-cu.com, text a pic to 262-255-0833, or by dropping it off at your local branch.
Official Rules
Your account must be in good standing. This means all loans and account balances must be current and in good standing when the Skip Pay Coupon/Request is received by the credit union.
Loan must be open for a minimum of 95 days prior to skipping loan payment.
Limit (2) skip pays per calendar year and skipped payments cannot take place in consecutive months.
If processing with Form, it must be signed by at least one borrower.
Limit (8) skip pays per life of any specific loan.
If you choose to skip your payment and your loan payment automatically transfers from your FOCUS Credit Union account, it will not transfer during that month. You will not need to do anything with your automatic transfers, except in the following circumstances:

If you skip the payment on the day it's due, please contact the credit union to stop the automatic transfer and for assistance advancing your due date forward.
If you choose to skip your payment and your loan payment automatically transfers from an outside source, you'll need to contact the automatic payment source to stop that month's payment.
By completing a Skip-A-Payment you are requesting FOCUS Credit Union to advance the loan due date equal to one month's payment. You understand that the current balance of the loan is extended by the amount of the payment skipped and that interest will continue to accrue on your loan balance throughout the deferred payment period, which may further extend the term of your loan. If there is more than one borrower on a loan, only one borrower is required to authorize a Skip-A-Payment request.