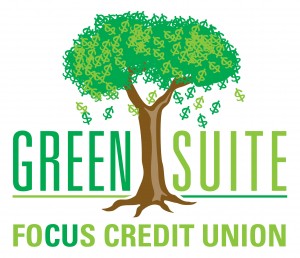 A suite of accounts that are designed to help you, our member reach GREEN. Green in your pocket, green for the earth, green to get you where you want to go. These products reinforce FOCUS Credit Union's commitment to doing our part and being here for you.
Green Checking
Less paper in the mail — more in your wallet. Green checking is available to any member 15 years and older. This account features e-statements, debit card, free online account access, free online bill pay and free checks. We want to help you help others, so the free checks available will include a donation to an affiliated charity. Plus, the higher dividend for this account will be donated to a charity of your choosing. Making Dividends, Make A Difference.
Evergreen Certificate
We want to help you grow your green. The Evergreen Certificate program has 6 month, 18 month and 30 month certificates to choose from and each has only a minimum balance of $100 to open. The key here is you can add money to these certificates at any time, for any $$ amount for the life of the account. So, if you are saving for college, a car, a home, a vacation – whatever it is you can maximize your return and build your balances on your schedule.
Green Light 1st Auto Loan
FOCUS Credit Union wants to be the place to help our first time car buyers learn to borrow wisely. A special loan is available for you. With a parent or guardian cosigner, FCU will charge 1/2 of the stated loan rate for a Green Light 1st Auto Loan. This means you will be able to get a 50% cheaper interest rate than mom and dad!
Green Fuel Auto Loan
Members who opt to buy either a fuel efficient or alternative fuel vehicle will get a 1.00% loan rate reduction due to your efforts to reduce your carbon footprint. Whether it is a Fuel Cell Car, Hybrid, E-85, bio-diesel or simply a gasoline vehicle that gets at least 35 mpg highway, enjoy a better rate on behalf of FCU for your efforts to do your part in helping out.